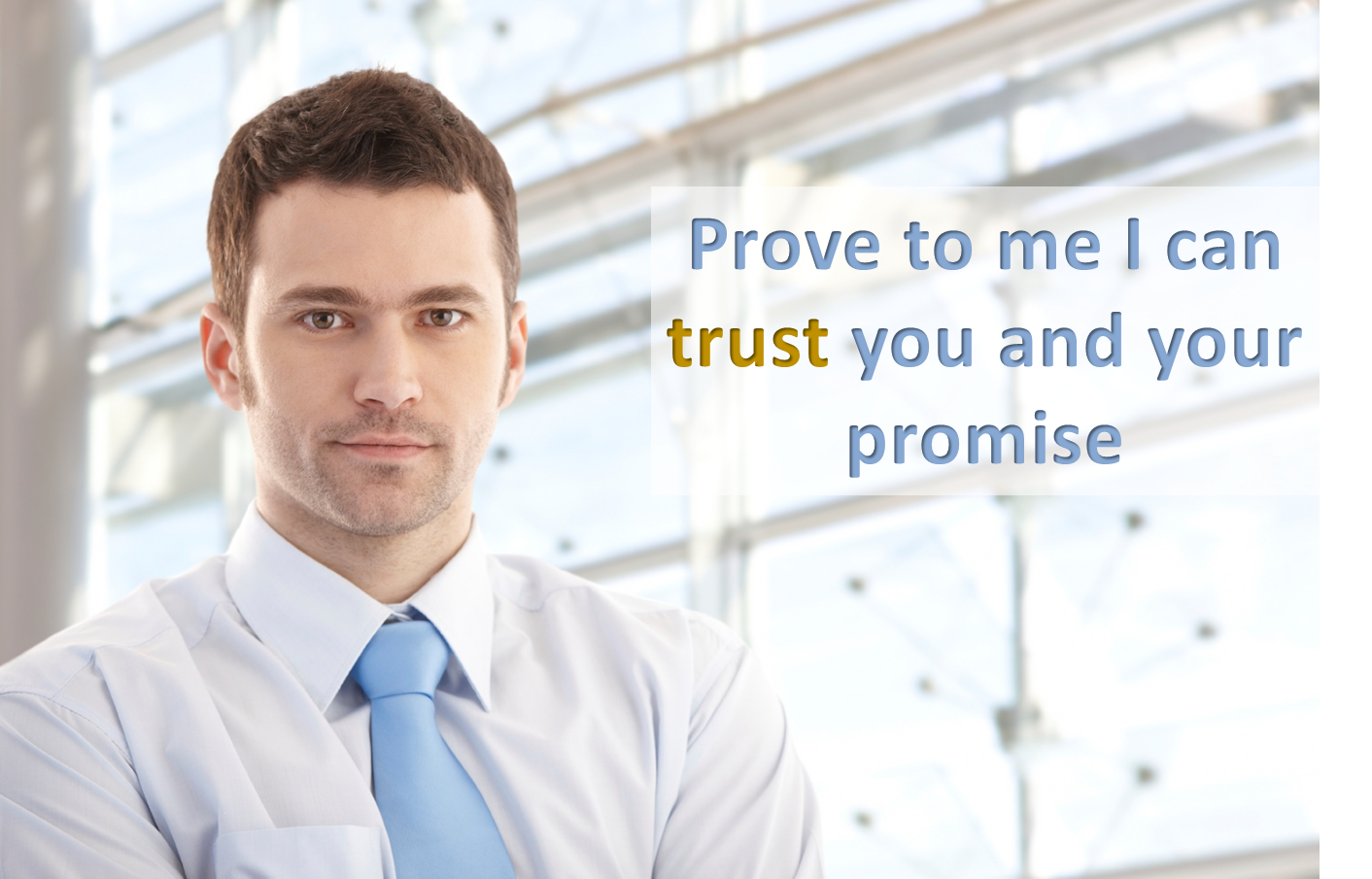 By Lindsay Bridger, Enabler, Bridging Performance
24th July 2015
Solution Selling is changing. For many years there has been a focus solely on selling capabilities like questioning techniques and proposal writing. There was little thought given to the character of the sales person or even the company. Well times are changing. "Integrity" and "Trust" are back in fashion. Research is showing that buyers are looking for not only "credible brands" but also "credible Sales Consultants". They want the Sales Consultant to not only be knowledgeable in their products or services, but also show a genuine sense of integrity and partnership.
 They want a Trusted Advisor; someone who is seen to have four key qualities;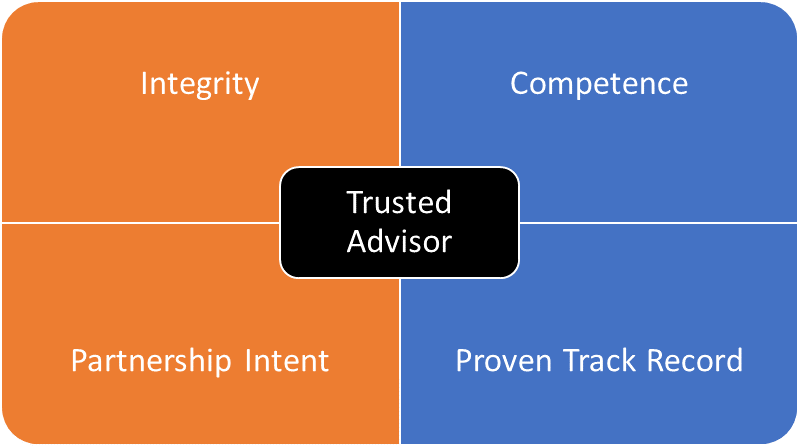 The first two qualities are all about the character of the person themselves, their values and mindset.
Integrity; being the person's ability to behave in a way where they do what they say, keep promises, are honest and have humility. To be ethical and socially responsible in how they sell.
Partnership Intent; being the person's attitude or agenda in selling. Does the seller really care about me, my challenges, my aspirations, what I am trying to do? Do they want me to benefit genuinely from the solution being proposed or do they just want to make a sale.
The second two qualities are about the person's capability to do the job at hand, to deliver the solution.
Competence; do they have the knowledge, skills and experience to provide confidence in the buyer. Do they know what they're talking about and are able to implement the solution?
Proven Track Record is the proof point. Can the Sales Consultant and company show that they have achieved this outcome or result before, or can they show evidence that would provide confidence? If the solution has not been done before how do they know it will work?
This is about the past performance and reputation of both the Sales Consultant and company. The current performance around how the Sales Consultant is performing in the mind of the buyer and the future projection the buyer has around their belief or confidence they have in the solution bringing to fruition all that has been promised during the initial sales conversations.
The research suggests that this focus on concerns around the future implementation success of a product or a solution has a lot to do with past experiences where customers have felt let down in terms of the performance result or return on investment. This has led to a new priority or focus on risk mitigation and substantiation on the part of the seller. They need to instil confidence and differentiate themselves as well as differentiate product or service criteria.
So what does this mean! It means that customers want, and are, differentiating their potential providers during the tender or proposal stage, not just on price, service and other product/service associated criteria, but are also looking to short list or differentiate vendors on their perception of "Trusted Advisor". This means a fundamental shift in how sellers think about selling and how capability is developed in solution selling situations. We need to be developing the character and the capability side of our sale teams and finding better ways to showcase our track record.
There are many ways to address gaps in each of these four areas. The important thing is to be addressing all four, not just knowledge and skills. Below are just a few ideas: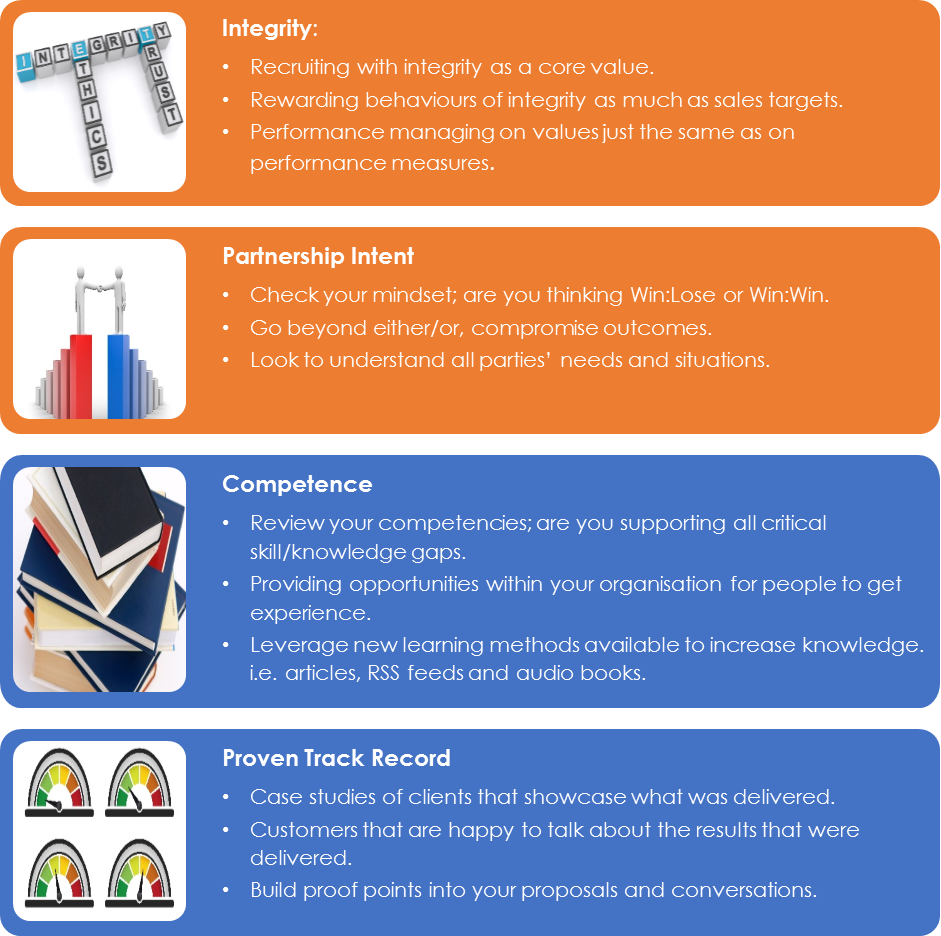 Reference materials:
What Sales Winners Do Differently by Mike Schultz and John Doerr, RAIN Group
The Speed of Trust by Stephen M.R. Covey